The International Reggae Poster Contest is pleased to announce the top 100 winners of our 8th Reggae Poster Contest on the theme of Women in Reggae Music.
As we celebrate our 10th anniversary and Jamaica's 60th year of Independence, the IRPC contest honours women in and of reggae and all other genres of Jamaican popular music.  We highlight the many roles of women in the Jamaican music industry, such as songwriter, singer, DJ, producer, artist manager, tour manager, booking agent, publicist and entertainment journalist.  The outstanding careers of these women have been central to the development and expansion of Jamaica's greatest cultural export.
We also honour the women whose powerful roles in society as freedom fighter, cultural activist and nurturer are documented in Jamaican music. The top 100 winners have produced creative visual expressions that evoke this year's theme, showcasing women with the energy and vibe for which Jamaican culture is known at home and internationally.
We received 1180 posters, submitted by 653 artists from 53 countries.
The judging process took place in three stages with three panels. The first consisted of the international designers Celeste Prieto, PARAGUAY; Claudia Tello, MEXICO; Costantinos Pissourios aka versioncos14, CYPRUS; Donnette Cooper, JAMAICA; Eric Boelts, UNITED STATES; HuiMin Su, CHINA; Mohammad (Sina) Afshar, IRAN; Naandeyé García Villegas, MEXICO; Nicholas Da Silva, UNITED STATES; Onur Aşkin, TURKEY; Seyyedmehdi Mousavi, IRAN; Tomasz Bartz, POLAND; Zhijun Wang, CHINA.
The second panel comprised the international designers Andre Hutchinson, JAMAICA; Byoungil-Sun, KOREA; Charis Tsevis, GREECE; Chaz Maviyane-Davies, ZIMBABWE; Christopher Scott, ECUADOR; CIPRIAN N. ISAC, ROMANIA; Dr. Arafat Al-Naim, UNITED ARAB EMIRATES; Mehdi Saeedi, IRAN; Mirko Ilic, BOSNIA; Niklaus Troxler, SWITZERLAND, Rikke Hansen, DENMARK; Susana Machicao, BOLIVIA.
And the Winners Are:
1 | Vasilis Grivas | Queen of the Maroons | Greece
2 | Mahmut Soyer | Woman's Power | Turkey
3 | Mina Nasliyani | Inner Peace | Iran
4 | Sun lijiang | Because of love | China
5 | Junhui Cai | Breeding Reggae Music | China
6 | YuSheng Wang | Reggae mermaid | China
7 | Dora Murin | Reggae is our Peace | Hungary
8 | Christoph Stettler | Women in reggae | Switzerland
9 | Junhui Cai | Women in Reggae Music | China
10 | Mahmut Soyer | Woman's Power | Turkey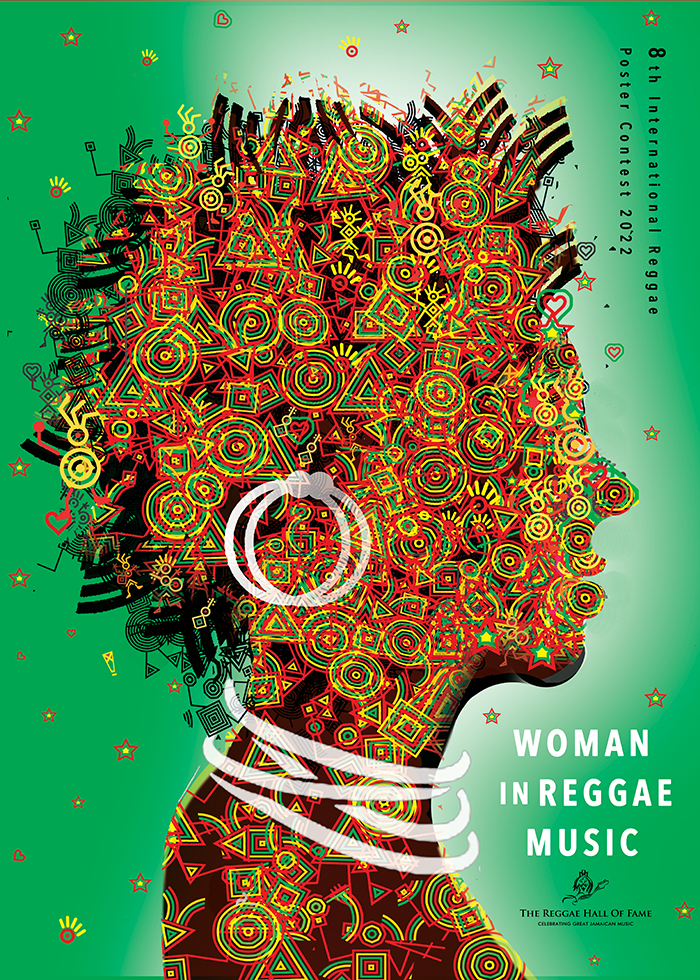 1 | Vasilis Grivas | Queen of the Maroons | Greece
2 | Mahmut Soyer | Woman's Power | Turkey
3 | Mina Nasliyani | Inner Peace | Iran
4 | Sun lijiang | Because of love | China
5 | Junhui Cai | Breeding Reggae Music | China
6 | YuSheng Wang | Reggae mermaid | China
7 | Dora Murin | Reggae is our Peace | Hungary
8 | christoph Stettler | Women in reggae | Switzerland
9 | Junhui Cai | Women in Reggae Music | China
10 | Mahmut Soyer | Woman's Power | Turkey
11 | Qiuyu Zeng and Lingfei Tao | Blooming wildness | China
12 | 陈博文 陈博文 | 女性如花 | China
13 | Yajie Wang | Reggae music in women | China
14 | Luis Daniel Pérez Molina | Body and Soul | Mexico
15 | Zhang Yidan | Carnival night | China
16 | Xiyue Wei | Women in Reggae Music | China
17 | xvling lai | The other side of reggae | China
18 | Yajie Wang | Women in Reggae Music | China
19 | han yukun | Reggae music in women | China
20 | xing he- | Reggae music in women | Chile
21 | YuSheng Wang | Women in reggae music are beautiful | China
22 | Rosalio Rodriguez | The Queens | Mexico
23 | Juan Arredondo | Wumana | Guatemala
24 | DAN JIN | Tanya_Stephens | China
25 | Vladimiros Psomadopoulos | No Women, No Reggae | Greece
26 | Ahmed and Elsalam Ebrahim | light from the dark | Egypt
27 | Omar Ignacio | Mary Seacole | Mexico
28 | Binrui Chen | A woman who plays jazz | China
29 | Chen LangQing | Reggae female beauty | China
30 | Zhiwei Lyu | Women in Reggae Music | China
31 | CHIA HSIANG LEE | Dance | Taiwan
32 | Zhou Tianrui | The Queen of Gay Discos | China
33 | Fanghong Huang | Music freedom | China
34 | Yan L i | Female | China
35 | xuwei zhang | Diana King | China
36 | Emran Abtahi | Be Happy | Iran
37 | Han Wei, Qi Huiting, Xue Jiashan | Tribute to Queen Ifrica | China
38 | Wei Han, Deng Xue Li, Lai HaiCai | women in reggae music | China
39 | Yan L i | women in music | China
40 | Meiqi Song | the sound of dreadlocks and flowers | China
41 | Rafael Homor | Reggae Star | Brazil
42 | Yanchao Song | women in reggae music | China
43 | YANGYANG REN | The power of women | China
44 | Andrea Chin | Queens, Raise Your Voices to the Skies | United States
45 | Zuo Biao Peng | reggae music and peace | Hong Kong
46 | WEN XIANG YANG | Women in reggae music | China
47 | Zhuoyi Wang | ENDLESS POWER, ENDLESS POSSIBILITIES | China
48 | Dai Chuanyi | Singing Song | China
49 | Mao Chenghan | Let's rock with the music | China
50 | Alejandro Adrian Ribote | Judy Mowatt | Spain
51 | Elina Plemeniuk | Woman. Dance. Reggae. | Russia
52 | kai x u | Etana | China
53 | Ay. Bayer | Reggae Spirit | Turkey
54 | HaiCai Lai, Deng XueLi, Han Wei | women in reggae music | China
55 | yichen zhang | Women in ReggaeMusic | China
56 | xuwei zhang | MILLIE SMALL | China
57 | Hanhan tong | reggae music of women | China
58 | Yaxin ren | Play the beauty of women | China
59 | Yaxin ren | Play the beauty of women | China
60 | Yilu Huang, Zhang Jiangchuan | Women in Reggae Fest | China
61 | Rashid Rahnama | Women Power | Iran
62 | Lingfei Tao, Qiuyu Zeng | Melody | China
63 | Mario Rivera | Tribute to Hiroko Okuda | Spain
64 | Jessica Delgado | Chronicles of a Woman with Reggae | Mexico
65 | Marcelo Furuuchi | Typo Dancing | Brazil
66 | maria pallecaros-theoclitou | creative vibes | Cyprus
67 | Xin Feng | Shouting | China
68 | ZHANG SIJIA | Happy guitar girl | China
69 | Flavus Regis | Original Toast Koffee | Brazil
70 | Saman Nikpour | feeling of freedom | Iran
71 | Liao Fengyan | REGGAE MUSIC | China
72 | Mauricio Sirias Mayorga | Reggae's Madda Land Tribute | Costa Rica
73 | Yongqing Yeyongqing | Listen | China
74 | peter eliáš | Marcia – Legend | Slovakia
75 | Meghdad Shirali | woman in reggae music | Iran
76 | Yang Runzi | Reggae | China
77 | Maria Eugenia Rojas Quinteros | Peace Chant | Bolivia
78 | Lin Jiayi | women in reggae music | China
79 | Zhang Yidan | Women in reggae music | China
80 | Chai Haoyuan | women of reggae music | China
81 | Manny S u | Reggae and Roses | China
82 | Nadia Mandujano | Power | Mexico
83 | Wan Jialing | women in reggae | China
84 | Meghdad Shirali | woman in reggae music | Iran
85 | Lewei Wuu | The Power of Music | China
86 | Diana Chernaya | woman shapes reggae | Ukraine
87 | Zuo Biao peng | Women in reggae music | Hong Kong
88 | Yicheng Zhou | Reggae women | China
89 | Chuan Xing | Woman Behind Hat | China
90 | XianTian Wang | Among Us | China
91 | elvan yıldız | woman and rhythm | Turkey
92 | Jorge González Morales | Woman and Peace and Love | Mexico
93 | Sevgi Ari | Sunshine Reggae | Turkey
94 | Shuting Wang | music going round and round | China
95 | DUPING XU. | Music for Women | China
96 | Normal Gergely | Women with Lions | Hungary
97 | Lenna Winterton | Women of Reggae | France
98 | Xiaoming Zhang | queen | China
99 | Jianfei L u | Harmonious and wonderful music | China
100 | Yan Xin Zhu | Special records | China
Check all the posters here: https://www.reggaepostercontest.com/winners-2022/